Our range
Thé Infré Decaffeinated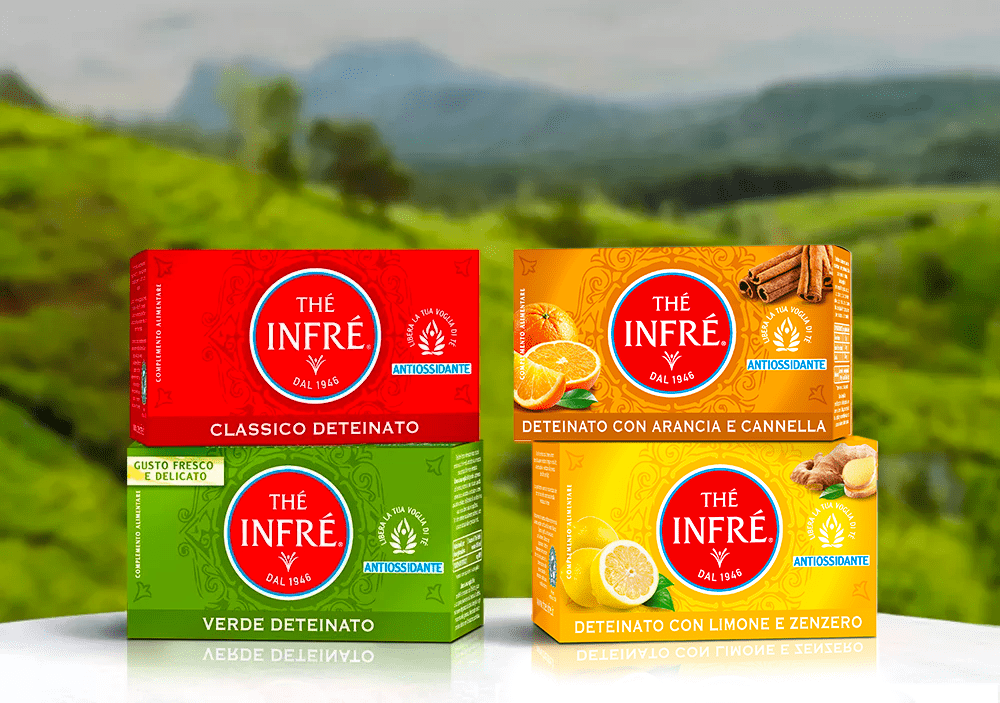 Thé Infré offers a wide range of products to meet every need.
From classic filter teas – to relive the magic of ancient tea ceremonies every time – to instant teas, for those moments when time is scarce but the craving for a cup of Thé Infré is strong
Each product is characterised by unique and unmistakable tastes and aromas: classic tea and green tea are complemented by 'Orange and Cinnamon' and 'Lemon and Ginger' flavoured teas.
An offer that combines taste and well-being, turning every moment of the day into a break to be savoured to the full.
---
Thé Infré Zen-T: Japanese Green Tea

A recent addition to the Thé Infré family is the ZEN-T line, the tea of well-being: a selection of the best qualities of Japanese green tea from organic agriculture, chosen with a careful eye on biodiversity and respect for nature.
Known in Japanese popular culture for their naturally low levels of caffeine, these green teas are processed using the Uji method, the typical steaming process that stops the oxidation of the leaves, preserving all the properties of the tea and giving it its characteristic flavour.
The Zen-T line consists of SENCHA tea, with its harmonious, delicate scent and naturally sweet note, and the traditional BANCHA tea with its delicate, fresh and slightly herbaceous flavour.
Discover more